ARBO is constantly improving pump variants to meet specific duty points as close as possible.
The catalogue in PumpFlo is updated and you will notice also the new option to select Stainless Steel Magnetic driven pumps.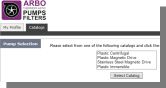 If you are not a user of PumpFlo yet and like to know more about this functionality, please contact Peter van 't Sant. We are pleased to give you an introduction and submit login codes and a password.