Filter chamber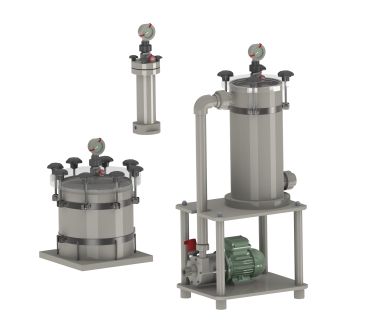 Characteristics filter chambers
Capacity to 40 m³/h

Can be combined with any ARBO pump
Filter rates of 0,2 to 1200 micron
Applications 
For all duties that require accurate removal of organic or an-organic particles from corrosivel liquids with maximum efficiency. Can be used as in-line or off-line process filter.
Wide variety of standard configurations for inline pump protection available (refer to "pump protection").
Materials filter chamber
Machined of massive PP that covers a very wide range of duties – there is no metal to liquid contact. All reinforcement filter chamber parts are made of SS-316. For highly abrasive liquids (high % of solids) housing parts of High modulus HMPE may be ordered. For highly corrosive mixtures at higher temperatures even a housings entirely made of virgin PVDF are available. Bag filters can be produced from PVC-CAW for liquids that contain high percentage of Chlorine.
Safety
The system is designed to ensure by-pass free filtration. The cover closure is provided with firm hand wheels on swing bolts so that there are no loose parts. The transparent cover enables simple air lock inspection in order to make full use of your filter elements. An air release valve is standard and the rotatable diaphragm gauge gives insight in your filter load.
About Arbo Pumps
ARBO Pompen en Filters supply excellent, highly reliable and corrosion resistant pumps and filters, like filter chambers, for a wide range of duties.Since the foundation in 1954, ARBO Pompen en Filters focussed on the design and production of sustainable products with a short payback time thanks to significantly low maintenance cost. In addition, at ARBO Pompen en Filters human, environment and safety take a central position. All scrap material is recycled, in order to safe cost and the environment
With a team of experienced engineers, production- and sales staff, ARBO Pompen en Filters services a wide customer base through a worldwide distribution network.Thanks to the employment of high performance plastics, ARBO pumps offer a remarkably longer life span than metal pumps and filters that will suffer form corrosion.
Information about filter chamber downloads

7.0 Leaflet ARBO Filter chambers.pdf