Magnetic drive pump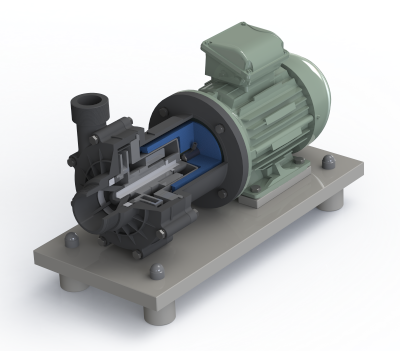 Magpro magnetic drive centrifugal pumps
Few types - great flexibility
Excellent chemical resistance
Achieve the higher torque by using stronger drive magnets and internal magnet segments
Standard suitable for max. density 2000 kg/m³) and just change the motor power
Fast and reliable deliveries
Easy installation
No leakage
Long operational life 

Easy to maintain
Injection moulded pump head
High purity (99,7% pure) ceramic pump shaft and thrust rings
Pump bearing made of Rulon W for wide area of chemicals and applications
Corrosion resistant PP injection moulded bracket
Turbine impeller standard made of PVDF for max. stability
Product range 
AM Magpro  series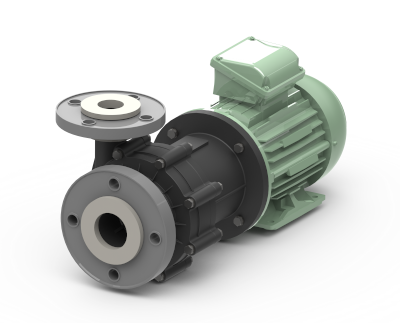 AM pumps are normal priming end-suction centrifugal pump with magnetic drive.
• up to flow rates of 130 m³/h
• up to 48 m delivery head
AMT Magpro turbine series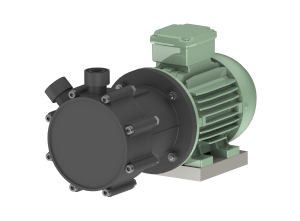 AMT pumps are equipped with a turbine shaped high efficiency impeller in PVDF. Opposed to the AM end-suction centrifugal pump, the suction is located radially like the discharge. Thanks to the construction, suction and discharge port may be inversed. It is possible to rotate the pumphead
by 45º in order to suit your piping. This type of pump is particularly suited for low flow – high head requirements.
• up to flow rates of 8,5 m³/h
• up to 46 m delivery head
AMT Self-priming (ZA) series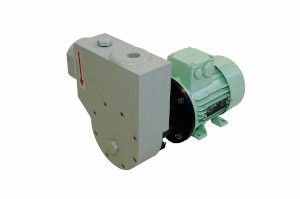 AMT pumps with build in priming unit, are able to pump liquids containing gas up to 20% and their self-priming ability prevents vapor locking and avoids the necessity of permanent flooded pipe-works. These models have machined pump heads.
• up to flow rates of 8,5 m³/h
• up to 33 m delivery head
• up to 5 m suction lift
Download


2.0 Leaflet ARBO Magnetic drive pumps EN.pdf     
Magnetic drive                         
Magnetic drive centrifugal pumps are Seal-less. The driving torque is transmitted by a permanent
magnetic coupling to an internal magnet that moves the impeller. They are energy efficient and can circulate a variety of fluids.
No leakage
Magnetic drive pumps (like most sealless pumps) have a higher initial costs than comparable centrifugal
pumps, but offer reduced operating costs thanks to the lack of seal replacement, cleanup, waste, and
downtime. They are particularly useful for transporting hazardous or expensive chemicals because there is no mechanical seal, eliminating the possibility of leakage.
Construction
Many years of experience resulted in this latest design in pump technology. The fluid section is sealed by solid plastic parts and the highest grade of anti-corrosion materials are used in the manufacture of the spindle, bearing and mouth ring, which combined with leak-free seal-less structures, ensure the safe and durable transfer of strong acids and strong alkaline liquids. For most of the applications, Polypropylene (PP) is sufficient.

If concentrated chemicals must be pumped and/or at higher temperatures, the medium contact materials
consists of PVDF. The plastic parts are reinforced with fibres. As a result, the pump is stronger despite the fact that less material is used, and retains its physical characteristics in the case of possible increases in temperature and/or pressure.In this way, the chance off leaking gaskets is minimized.
Impeller
AM pumps are equipped with a closed impeller (except the smallest type that has an open impeller),
with optimum efficiency. It is fixed onto the shaft independent from the direction of rotation.
For all transport or circulation duties of pure chemicals or other corrosive liquids.
Standard materials of construction
Polypropylene (PP)
Polyvinylidenfluoride (PVDF)
Polytetrafluorethene (PTFE)
Stainless steel AISI SS-316
Solid particles 
The AMT pumps are equipped with a turbine impeller. Thanks to the tight tolerances between the pump
housing and impeller, the pump achieves a relatively high pressure. However, this feature makes the pump non suitable for pumping particles. If your liquid contains particles, a strainer should be installed in the suction line to protect the pump! In order to save on costs on repair jobs, these pumps are provided with wear plates in the pump housing.
Motors
All motors are according NEN-EN-IEC 10072-1 DIN 42673 NEN3321 standard, 2- or 4-pole for 230/400 V or 400/690 V / 50 or 60 Hz, IP55, ISO class F. Other protection classes against dust and or humidity on
request.
Atex
All RVS magnetic drive pumps can be supplied with zone II, Atex II 2G e II T3 certification.
Paint system

 
These pumps are often used in corrosive environments. Therefore all metallic parts are coated
according NEN-EN-ISO 12944-5 category C3 suitable for outdoor installation. Other painting categories and colors on request.
Maintenance
All pumps are supplied with threaded connections or flanges according DIN standard. During inspection
and/or reparation the process connections (suction and discharge) can remain in place. The number of parts has been reduced to a minimum and therefore the pump has only very few wear parts. At the same time servicing can be carried out efficiently so that down time and production losses are reduced to a minimum.
Options

  

Dry running protection
Diaphragm (switch) gauges
Priming units
Strainers
Performance curves Magpro AM
Performance curves AMT
Performance curves Magpro AMT - ZA